Health & Wellness Center
About
We will treat your children like our own!

The LEAP Health and Wellness Center is a pediatric school based health center that provides convenient , accessible, and comprehensive health services for children and adolescents where they spend the majority of their time–in school. The range of services varies from basic primary care, preventative medicine, including immunizations to urgent care. The Pediatric Center is open to the public, LEAP students and their siblings (birth to 23 years of age).
The LEAP Health and Wellness Center provides a wide range of pediatric services. includes, but is not limited to:
Annual physical exam,sports physicals, and childhood vaccinations
Sick visits (LEAP students can be seen in our center while in school with parent consent)
Special interests in treating Asthma, Allergies, ADHD, Acne, and newborn care
Suturing cuts
Pregnancy testing, counseling, and contraception
Referrals to specialist care
Dr. Rivera is affiliated with CHOP, Virtua, and Cooper for newborn deliveries.
Hours of Operations
We offer same day appointments and walk-ins.
Monday and Tuesday we are open from 8 AM to 6 PM
Wednesday, Thursday and Friday 8 AM to 4 PM
Director's Message
Welcome to the LEAP Health & Wellness Center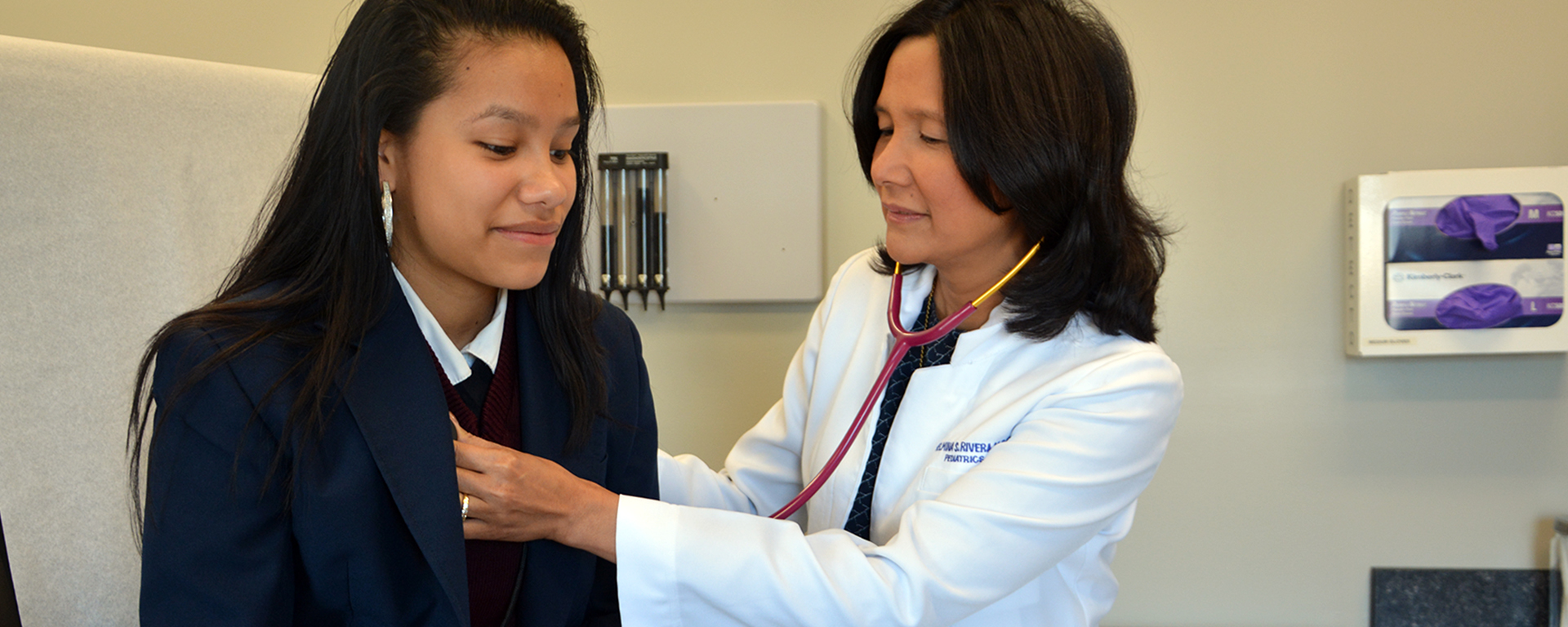 In addition to providing an outstanding, rigorous academic program in a safe, nurturing environment, LEAP Academy has created the LEAP Health and Wellness Center. The Health Center is located on the 10th Floor of the Dr. Gloria Bonilla-Santiago High School Building. Our Health Center accepts most health insurances and can provide complete pediatric care for your child/children, including those that do not currently attend LEAP Academy, from birth to age 21. It is open to the surrounding neighborhood as well. Our office hours are Monday and Tuesday, 8:00am to 6:00pm and Wednesday, Thursday and Friday, 8:00am to 4:00pm.
By enrolling in the Health Center, changing the primary care provider with your insurance company to our office, and signing the necessary consent forms, students may visit the LEAP Health and Wellness Center for immunizations, sports physicals, sick visits and well visits throughout the year, during their school hours, with minimal disruption to their academic studies. If your child needs to see the doctor during school hours and a parent is unable to come with the child to the visit, a Health Center staff member will bring your child to the Health Center and Dr. Rivera will call the parent prior to and after the examination. The Health Center location within the school will also minimize the amount of time parents will miss from work.
Not only would your child be receiving the highest quality of health care, but during office hours, a sick child will never be put off to the next day. During non-business hours, Dr. Rivera is a phone call away. Our after hour's message will leave a cell phone number to call if you have an emergency that cannot wait until our office reopens. An added advantage to you and your child is having a relationship with one doctor which strengthens the doctor-patient relationship and provides continuity of care.
Please feel free to stop by our brand new facility and meet Velmina S. Rivera, MD, FAAP and our staff. Dr. Rivera is a Board Certified Pediatrician with 20 years of experience, with special interests in asthma, acne, ADHD, concussion, contraceptive management, injury care (suturing, sports injuries, etc.) and newborn care. Dr. Rivera has admitting privileges at Cooper and Virtua/CHOP Hospitals.
Let's work together to create a healthy, bright future for our children.
Velmina S. Rivera, MD, FAAP, Pediatrician
Chief Medical Officer
Staff
Meet Our Health & Wellness Staff
Forms
Download Resources for the LEAP Health & Wellness Center
Announcements
Announcements
During this pandemic, Dr. Velmina Rivera will be be available via Telehealth from 8AM to 4PM,  Monday through Friday for virtual visits or medical questions through the Zoom application.  Please call Dr. Rivera at 856-651-8976 but download the Zoom application before you call the doctor.Please continue good hand washing and do your part following the social distancing guidelines.  Your health and your family's health depends on this.  We wish you wellness during these uncertain times.  Again, please call 856-651-8976 for any medical questions or concerns.
It's that time of the year…..FLU vaccines are now available only for our VFC patients (Vaccine for Children Program) who have either Horizon NJ Health Plan A or United Healthcare Community Plan A, or non-insured and under the age of 19.  Please call the office to schedule your child's appointment today for the flu shot! We are expecting our shipment very shortly for our patients who have private insurances.
Ear Piercing is now available by a Board Certified Pediatrician, Dr. Rivera, at LEAP Health and Wellness Center for patients 6 months of age and older in a clean, sterilized environment with pleasant surroundings.  This is not a charge covered by your insurance.  Give the office a call at 856-614-5610 to find out more information.
Our Patient Portal is now available to make life a little less stressful.  You can sign up, log in and request non-urgent appointments (we stress that you call the office for an urgent illness needing attention), request medication refills, have some of your questions answered, pay your bills and much more.  Give us a call to find out how to sign up or simply stop by to complete the short permission form. We will be asking patients to sign up the next time you are in the office, but please feel free to stop in to complete the registration process.
Let's prevent cavities together.  Dr. Rivera has been trained to apply fluoride treatments to your children's teeth to prevent tooth decay.  This is covered by Medicaid insurance and will be no charge to our patients with Horizon NJ Health or the United Healthcare Community Plans.  Dr. Rivera can apply the fluoride treatment to children from 1 year through 5 years, every three months.  Call the office for more information.  If you are interested and do not have a Medicaid plan, please call 856-614-5610 ask for Jackie and she will call your insurance for you to find out if it would be covered by your insurance.
Healthy Tips
RAISING SAFE AND HEALTHY KIDS
Regular wellness visits with your pediatrician
Healthy diet – prevent obesity
Regular exercise at least 1 hour per day
Live a smoke free lifestyle
Monitor teen's activities
Provide love and support
Helpful Links
FAQs
How much does it cost?
The Rutgers/LEAP Health & Wellness Center accepts most private insurance carriers and two Medicaid plans–Horizon and United Healthcare Community Plan. Medicare We bill fees for services to your insurance company. If there is a co-pay due, we collect at the time of service.
Can my child be seen at school?
Yes. Your child can be referred to the LEAP Health & Wellness Pediatric Office by the school nurse, as long as the child is a registered patient in our practice. This means that you have completed a New Patient Registration Packet, which can be found on our website, signed the necessary consent forms and changed your PCP with our insurance. Click here to access the forms.
What are the Rutgers/LEAP Health and Wellness Center hours of operation?
Monday and Tuesday we are open from 8 AM to 6 PM
Wednesday, Thursday and Friday 8 AM to 4 PM
How do I sign up for care at the Rutgers/LEAP Health and Wellness Center?
You can enroll by simply completing a New Patient Packet which can be downloaded from our website, complete necessary paperwork (consents), call your insurance to change your PCP, call our office to schedule an appointment and bring the paperwork with your first visit; or you can drop in at the Center during regular business hours and pick up a New Patient Packet. We would love to give you a tour of our beautiful pediatric office.